German Shepherd Rescue of Sacramento Valley (GSRSV) is a tax-exempt (501-c-3) charitable organization dedicated to finding good homes for German Shepherds and German Shepherd mixes whose caregivers can no longer keep them or which are confined in animal shelters. Established in 2001, GSRSV is operated primarily by one person, Brian Foran. I am presently focused on placing dogs whose caregivers can no longer keep them. A "full house" of dogs at my rescue facility, and lack of foster caretakers limits my ability to rescue from shelters. If you're interested in becoming a foster caretaker, please contact Brian Foran at 916-655-3125 or bab43@msn.com.
If you are looking for a wider selection of purebred German Shepherds in Northern California, please visit the Websites of Bay Area German Shepherd Rescue (based in Novato), El Dorado County German Shepherd Rescue (based in Shingle Springs), German Shepherd Rescue of Northern California (based in Cupertino), Golden State German Shepherd Rescue (based in Alameda), Greater California German Shepherd Rescue (based in Modesto), and Second Chance German Shepherd Rescue (based in Walnut Creek).
How to find a dog to adopt from this Website:
Click on the four selections in large font in the menu to the left, starting with "Dogs Available for Adoption through GSRSV."


If you're interested in adopting a dog available through GSRSV, read the page "How to Adopt a Dog from GSRSV." That page describes my adoption process, and includes my adoption questionnaire and adoption contract. Please hold off on filling out the adoption questionnaire until after the next step!


If you're interested in adopting a GSRSV dog, contact Brian Foran at 916-655-3125 or bab43@msn.com to learn more about the dog. If the dog seems like a good match for you, I (Brian) will ask you to fill out and submit the GSRSV adoption questionnaire.


If you're interested in adopting a dog from another rescue group, an owner, or a shelter, contact the person or shelter listed for that dog.
URGENT: GSD mix Available for Adoption at Turlock Shelter--Almost Out of Time (posted 1-29-16)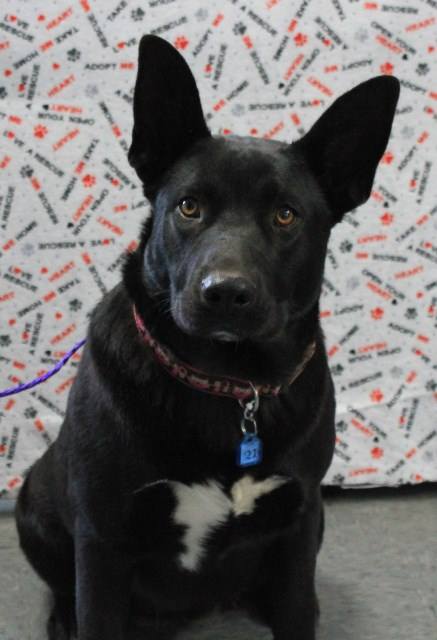 The 1-yo female GSD mix at the Turlock shelter is has been available for adoption since Jan. 15 and is almost out of time. A shelter officer reported that this dog is friendly and gets along well with other dogs.
GSD rescue groups (including GSRSV) are overwhelmed, and can't save 'em all. Shelters have no choice but to euthanize even the nicest dogs when people keep dumping them like this. The dogs with the earliest available dates will be the first to be euthanized.
The cost to adopt a dog from the Turlock shelter throughout the month of February is only $40 (normally $88) , which includes spay surgery, vaccinations, and a microchip. Two trips will be necessary: one to adopt the dog, and another to pick up the dog the day that it's spayed or neutered.
For information about this dog, please call the Turlock shelter at 209-656-3140 and refer to her by her ID number: 1-21. Shelter hours are M-Sat, 10-2.
URGENT: Spayed GSD-X Available for Adoption at Modesto Shelter--Almost Out of Time (posted 1-31-16)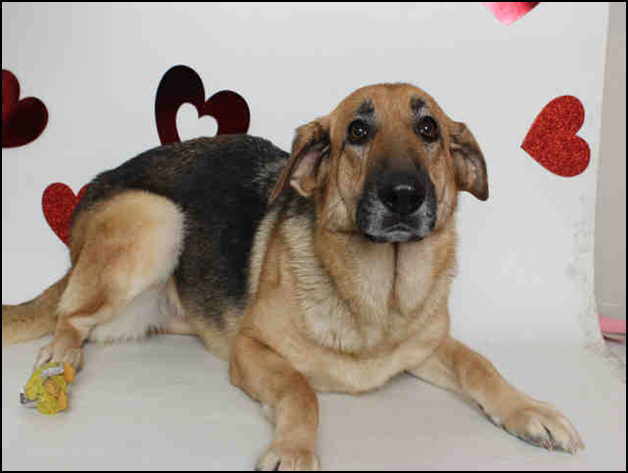 "Gretel" is a sweet, 2-yo spayed female GSD mix that has been available for adoption at the Stanislaus County Shelter in Modesto since Dec. 24, 2015, and only has until Feb. 9 before she will be euthanized to make more space at the shelter.
Gretel's adoption fee is $90.
To inquire about this dog, please contact the Stanislaus County Shelter at 209-558-7387 and refer to ID #A437825.
Thank you to Abril Arana of Davis for fostering Zoe, starting 2-5-16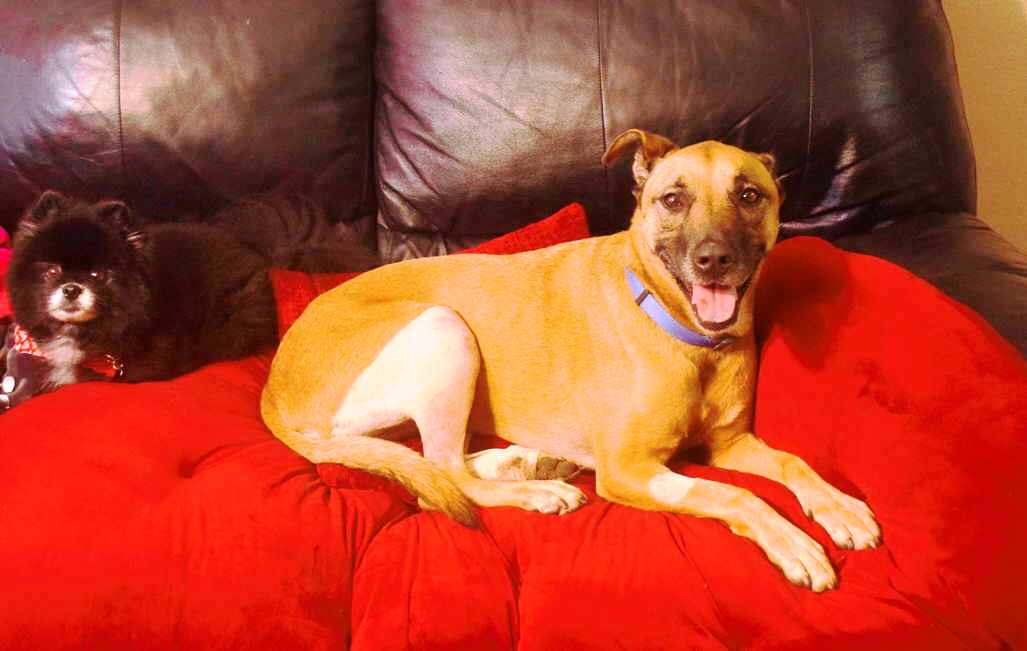 GSRSV is seeking a temporary foster home for Zoe, the 5-yo female GSD mix pictured here who is recovering from knee surgery. (The surgery was performed on Jan 6.) Zoe should be able to return to her regular foster home in early March.

Zoe is presently in a temporary foster home in Davis, but the foster caretaker (Krista) needs to relocate to Eureka, CA, on Jan 26 to assist her family. She will be staying in an apartment with her two sisters, who already have two dogs and four cats! Krista herself has a Pomeranian (Simba, pictured here w/ Zoe) and three foster kittens that she'll be bringing along.

Krista is willing to take Zoe along with her, but it's going to be one crowded apartment, and though Zoe has been good with Krista's foster kittens, she may not be good w/ the four resident cats. Zoe has been very good w/ Krista's Pomeranian Simba (pictured w/ Zoe).

If you're willing to foster Zoe for about six weeks, please contact Brian at either 916-655-3125 or bab43@msn.com ASAP.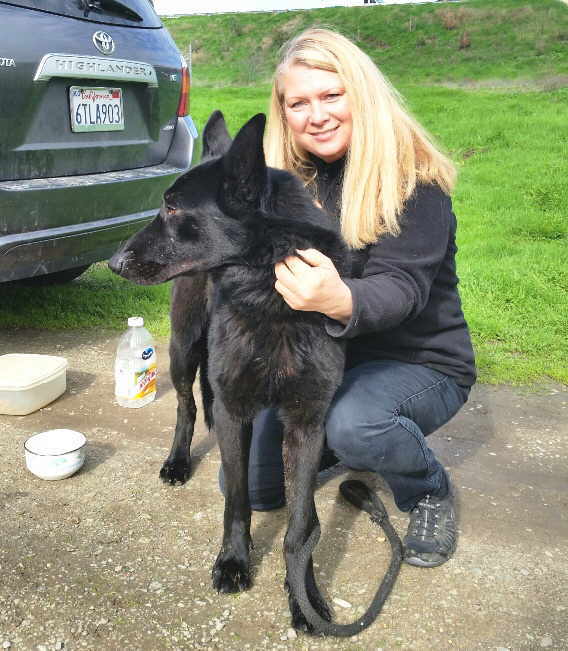 Dog Heroine!
Liz Fabian is a tireless rescue volunteer who has pulled and transported hundreds of dogs from the Stanislaus County Shelter in Modesto for multiple rescue groups throughout California and the Western U.S.
On Jan. 28, Liz asked me to rescue the male GSD at left (who I named "Lucky"), because another GSD rescue group had turned it down for what they interpreted as "severe dog aggressiveness." That was the death sentence for this dog as the shelter could not give him a further extension having already been passed up for rescue, and he was scheduled to be euthanized the following day.
Though I rarely take other rescuer's evaluations at face value, I was hesitant to rescue Lucky because of the circumstances surrounding the foster home I had available. So I passed on Lucky, even though I knew he was going to be euthanized.
Liz somehow found a way to have the shelter give Lucky a 24-hr reprieve, and went to the shelter to evaluate Lucky herself. The video that she took of Lucky and another dog speaks for itself. When she e-mailed me the video of Lucky, I immediately agreed to rescue him.
Liz's faith in Lucky and her persistence saved Lucky's life--no two ways about it. Lucky is now in a foster home in East Sacramento, gets along great w/ the male dog there, and already has adoption interest from the next -door neighbors.
Thank you, Liz, for going the extra mile to save Lucky's life. He's a great dog!
GSRSV is a tax-exempt public charity, as defined under Section 501(c)(3) of the Internal Revenue Code. All donations to GSRSV are tax deductible to the full extent of the law. Since February 2001, Brian Foran has funded GSRSV primarily on his own. Brian runs a large rescue facility by himself (pictured below), and typically has more than 25 dogs to feed and care for! Many of these dogs are either too old for adoption or have been returned to GSRSV more than once--and thus are allowed to live their lives out at the rescue facility. Never has Brian returned a dog he has rescued to a shelter--NEVER!
Donations have played--and continue to play--a huge part in keeping GSRSV afloat, as adoption fees are a drop-in-the-bucket compared with the costs of running a large rescue program. (See the actual numbers for 2007-2011 here.)
Please consider making a tax-deductible donation to GSRSV today, either by clicking on the PayPal button below,
or by mailing a check, made out to GSRSV, to:
GSRSV, PO Box 652, Pleasant Grove, CA 95668.

You can add a message to GSRSV in the PayPal payment window. Just click "Add special instructions to the seller" and a text box will open.
Any size donation is appreciated. Please help in any way you can!
Special Donation Appeal:
$4,000 Surgery for Zoe on 1-13-16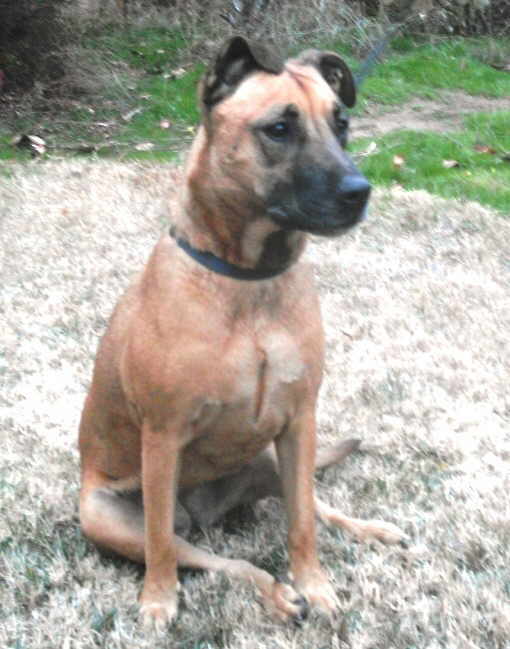 1-16-16: Zoe's surgery went great. Click here for an update on Zoe.
GSRSV is seeking donations to help offset the cost of knee surgery for Zoe, the 5-yo female GSD mix at left. Zoe has a torn anterior cruciate ligament in her right knee which prevents her from putting hardly any weight on her right leg. Dr. Robert Richardson of Campus Commons Pet Hospital will perform the surgery on Jan 13; the cost will be about $4,000.
GSRSV rescued Zoe in April 2012 from a woman escaping an abusive relationship. Zoe was adopted in Nov 2013 after 1&frac12 yrs in foster care, only to be returned to GSRSV in Nov 2015 due to the death of one of the adopters' mother and a subsequent move into the surviving parent's house.
Zoe is a great dog and is extremely active. Without the surgery, she would essentially be a three-legged dog the rest of her life.
If you would like to help GSRSV with the cost of Zoe's surgery, please see the instructions above for making a donation. If you donate via PayPal, please click on "Add Special Instructions to Seller" and include a comment that you are contributing to "Zoe's Surgery Fund."
Thank you for helping GSRSV help Zoe!
Art with a Purpose!
Kritika Bala of Lone Tiger Art is a talented artist with a passion for animals and nature--and she truly shows it by donating 90% of the proceeds of her commissioned paintings to animal welfare and environmental organizations! (Yes, 90%--unheard of!)

GSRSV was the recipient of a donation in Dec 2015 by Kritika from the proceeds of her commissioned painting of a GSD puppy "Lexi" (see right).

If you would like to immortalize your dog or cat in a beautiful (yet affordable) painting and help support GSRSV or another animal welfare organization, please visit the "Pet Project" of Kritika's Lone Tiger Art Website.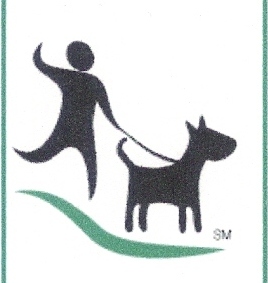 Don't just take your dog for a walk.....take your walk for a dog! Go to WoofTrax.com, download the app to your smartphone, and support GSRSV every time you walk your dog! The more miles you walk, the more WoofTrax donates to GSRSV!
You can also contribute financially to GSRSV without spending an additional cent by shopping at AmazonSmile, Amazon.com's charitable donation program. See below.

Shop at Amazon Smile
and Amazon will make a donation to:
German Shepherd Rescue of Sacramento Valley

ABOUT FOSTERING DOGS
Is fostering a dog a sacrifice? NO! It is a pleasure!
The rewards of knowing that you've saved the life of a sweet, beautiful German Shepherd dog (or any other breed), and made that dog feel loved, are MUCH greater than whatever inconvenience the dog may cause or the pain of letting him or her go to a new home.
If you, the German Shepherd-loving community, will not extend a helping hand to the numerous German Shepherds housed in area shelters and facing euthanasia, WHO WILL?
PLEASE consider fostering a German Shepherd for GSRSV! See the page Save a German Shepherd's Life: Become a Foster Caretaker.
Before You Consider Adopting a Dog from a Rescue Group (including GSRSV), Please Consider Adopting One from a Shelter!

Though there are certain advantages to adopting a dog from a rescue group, those dogs are safe. Those in shelters are at high risk of euthanasia! If you don't already know, you'd be horrified to learn about the number of beautiful German Shepherds that are euthanized every week in Northern California shelters.

Think you can't find a purebred German Shepherd at a shelter? THINK AGAIN!!

I have found the best Website to search for a GSD in a shelter near you is Petharbor.com. This Website allows you to specify breed as well as to select the shelters from which you'd like to search for a GSD to adopt. You can also request to receive automatic e-mail notifications when the shelters that you specified have GSDs available for adoption.

Please Remember that Most Dogs with Rescue Groups Come from Shelters Themselves!
GSRSV Picture/Story Scrapbook!
Send me your favorite photo and/or story of the dog(s) you adopted from GSRSV, and I will post them on the GSRSV Picture/Story Scrapbook page. Mail pictures/stories to Brian Foran at bab43@msn.com.

"Gus"


Older Rescued Dogs Make Wonderful Companions!


"Queenie"

Think that an older dog will not make a good family companion because it's too set in its ways?" Think again! Older dogs, more so than younger dogs, live to please their caretakers. Furthermore, hip dysplasia in older German Shepherds is much less of a problem than commonly believed, and general arthritis is readily treatable with coated aspirin (yes, ASPIRIN) and glucosamine/chondroitin supplements. For an excellent information resource on older dogs, see the Senior Dogs Project Website, and their "Top Ten Reasons to Adopt an Older Dog."

Testimonials of those who have adopted older dogs from GSRSV

Bob Warner adopted Krista from the Sac County shelter, with GSRSV's assistance, on 7-1-10. Here's what Bob had to say about Krista in December 2011:

"Krista has become a wonderful friend--so gentle and friendly that everyone enjoys her. She is an excellent example of why adopters should consider older dogs."
If you have or plan to adopt a GSD, you NEED to know about "bloat!" Please read the info below.
Gastric dilation/volvulus, more commonly known as "bloat", is an all-too- frequent, fatal event for German Shepherds. Basically, gastric dilation refers to a condition in which the dog's stomach fills up with air due to various circumstances. The dog's abdomen becomes visibly "bloated", and causes great discomfort. If the bloat persists, often what happens next is volvulus--the stomach literally rotates on its intestinal axis, shutting off the blood supply both to and from the stomach. At this stage, the dog usually has only hours to live, and the condition must be treated surgically. The sooner the dog is treated, the better its chance for survival and full recovery.
Learn how to avoid bloat in your dog, and how to recognize the symptoms. Please click on this link to open a very informative Webpage about bloat. I recommend printing the article and placing it where you can immediately access it if you suspect that your dog is experiencing bloat. Click on this link for a printable MS Word version of the article.
Springtime, Inc., is a manufacturer and retailer of amazingly effective, all-natural, reasonably priced nutritional supplements for dogs, horses and humans. I have regularly given a few of Springtime's supplements to the GSRSV dogs for years, and enthusiastically endorse these products--particularly "Joint Health"--a glucosamine/chondroitin/MSM supplement, and "Bug-Off Garlic"--a natural flea preventative that REALLY WORKS! Please visit Springtime's Website, and if you place an order with them as a result of this referral, please mention that you learned of their company through GSRSV. I do not receive any commisions--I just want the people at Springtime to know that I'm sharing the word on their products, as they do give me a discount on the products that I order.
Questions regarding German Shepherd Rescue of Sacramento Valley or this Website should be directed to Brian Foran, 916-655-3125, bab43@msn.com, or you can write to:

GSRSV
PO Box 652
Pleasant Grove, CA 95668
Thanks to

and

for listing GSRSV's adoptable (and adopted) dogs on their respective Websites.
Thanks also to

(www.comslider.com), a superb slideshow development and hosting Website, for hosting GSRSV's adoption picture slideshow free of charge.
This site is hosted by
(www.xmatters.com). xMatters specializes in "intelligent communications" for businesses, particularly for the IT component of those businesses. Many, many thanks to Troy McAlpin, xMatters' President & CEO and a former GSRSV adopter, for graciously hosting GSRSV's Website on xMatters' servers since 2001.
---
Last modified: Sunday February 07, 2016